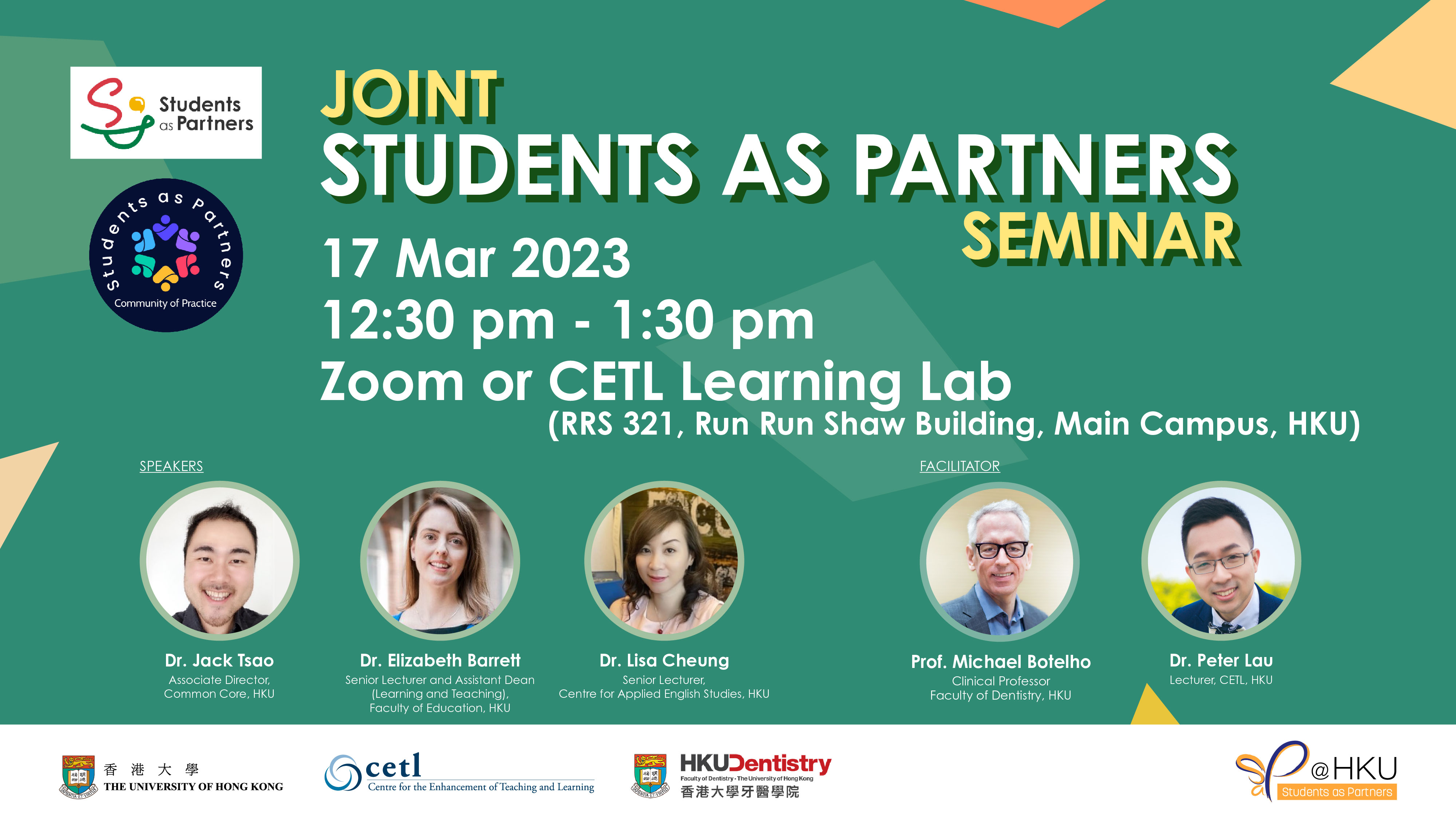 Co-ogranised by Centre for the Enhancement of Teaching and Learning, and Faculty of Dentistry

Student as Partners (SaP), also known as Student-Staff Partnership, is an increasingly adopted approach to student engagement in higher education. It emphasises the collaborative relationship between students and teachers for enhancing teaching and learning. With its positive impacts on student learning, faculty development, curriculum innovation, and Scholarship of Teaching and Learning, this partnership also creates opportunities for educators to reconsider the ethos of education.
This is a joint seminar by two UGC-funded projects, Co-Creating the Future of Education and Students as Partners Community of Practice. Three HKU colleagues will share their experience working with students in the partnership projects. While sharing the different SaP engagements in their teaching, the speakers will also talk about the resources that help sustain or facilitate SaP projects at HKU.
This is a hybrid seminar. All speakers will give their presentations at the CETL Learning Lab on HKU's Main Campus. Feel free to join us on Zoom or meet the speakers in person. All are welcome!
Details of the Event:
Date :
17 March 2023 (Friday)
Time :
12:30pm – 1:30pm
Hybrid :
Zoom or
CETL Learning Lab
(RRS 321, 3/F, Run Run Shaw Building, Main Campus, HKU)
Speakers (in presenting order):
Dr. Jack Tsao, Associate Director, Common Core, HKU
Dr. Elizabeth Barrett, Senior Lecturer and Assistant Dean (Learning and Teaching), Faculty of Education, HKU
Dr. Lisa Cheung, Senior Lecturer, Centre for Applied English Studies, HKU
Facilitators (in presenting order):
Dr. Peter Lau, Lecturer, Centre for the Enhancement of Teaching and Learning, HKU
Prof. Michael Botelho, Clinical Professor, Faculty of Dentistry, HKU
Game On: Student-Designed Experiences for Citizenship Education
Abstract
This talk focuses on a Common Core Student-as-Partner (SaP) game design research project. The project empowered students to teach civics and citizenship through the power of play. Supported by professional educational gaming consultants, students followed a design thinking approach to i) research, ideate, design, and prototype the game; ii) implement and facilitate their gameplay experiences; and iii) iterate and refine through evaluation and reflection. The process developed and showcased students' creativity, critical thinking, and communication skills in creating gamified educational experiences. This project represents an innovative and experiential approach to promote engaged learning and craft meaningful assessments.

About the Speaker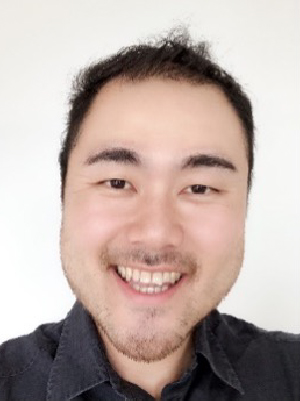 Dr. Jack Tsao is the Associate Director of the Common Core. He is dedicated to experimenting with innovative interdisciplinary pedagogies, particularly at the intersection of gaming, storytelling, and artificial intelligence technologies. Jack aims to enhance students' future readiness capacities through exploring various teaching and research initiatives.
Students as Partners: Supporting and Engaging First-Year Students in Active Learning
Abstract
First-year undergraduate students may need to transition from a more passive learning style in secondary school to an active, collaborative learning style in university. The aim of this project was to support first-year students in this transition, as well as engage them as co-'teachers' in the classroom. This project: 1) engaged a few senior students to co-create curriculum materials and 2) developed a collaborative group assessment that required first-year students to take the responsibility of teaching their peers and initiating small group discussions. In this sharing, I will describe the collaborative role of students and course instructors in this project, as well as reflect on the outcomes of the educational activities in the classroom.

About the Speaker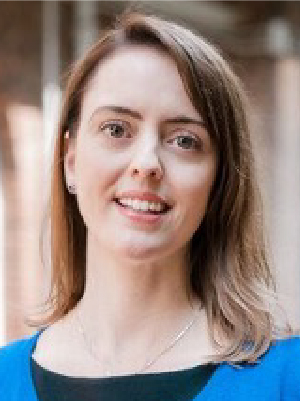 Dr. Elizabeth Barrett is a Senior Lecturer and Assistant Dean (Learning and Teaching) at Faculty of Education at HKU. She is the Faculty's Academic Advising and First Year Experience coordinator. Elizabeth teaches students who are training to become speech therapists or early childhood educators. She enjoys collaborating with students and colleagues to develop engaging and interdisciplinary learning experiences for her students.
Impact of student Partnership on learning: Success and lessons learned
Abstract
This presentation aims to review a two-year Students as Partners (SaP) initiative in the Centre for Applied English Studies (CAES) at the University of Hong Kong (HKU), during which five projects were successfully completed with significant outcomes. Qualitative data were collected via semi-structured interviews to provide comprehensive sources of information from the student partners' perspectives. The partnership contextualized in the educational endeavors is about the right to reflect the unique context and mission of CAES to support teaching and learning at HKU. A systematic measurement of the impact of student partnership on student learning and recommendations drawn upon the lessons learned will be discussed.

About the Speaker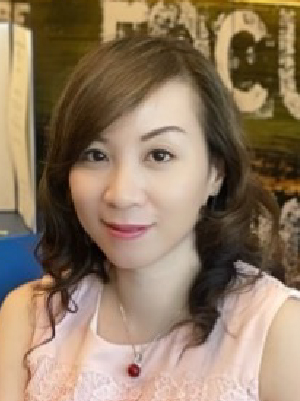 Dr. Lisa Cheung is a Senior Lecturer at CAES, HKU. She has substantial experience in coordinating, teaching and developing materials for academic literacy courses at both undergraduate and postgraduate levels. In addition to her leadership role for the SaP initiative, she is the Chair of the Publicity and Outreach Committee at CAES. Her first monograph is concerned with corpus analysis of the language of dentistry.
For information, please contact:
Ms. Canice Mok, CETL
Phone: 3917 6069; Email:
tsmok@hku.hk