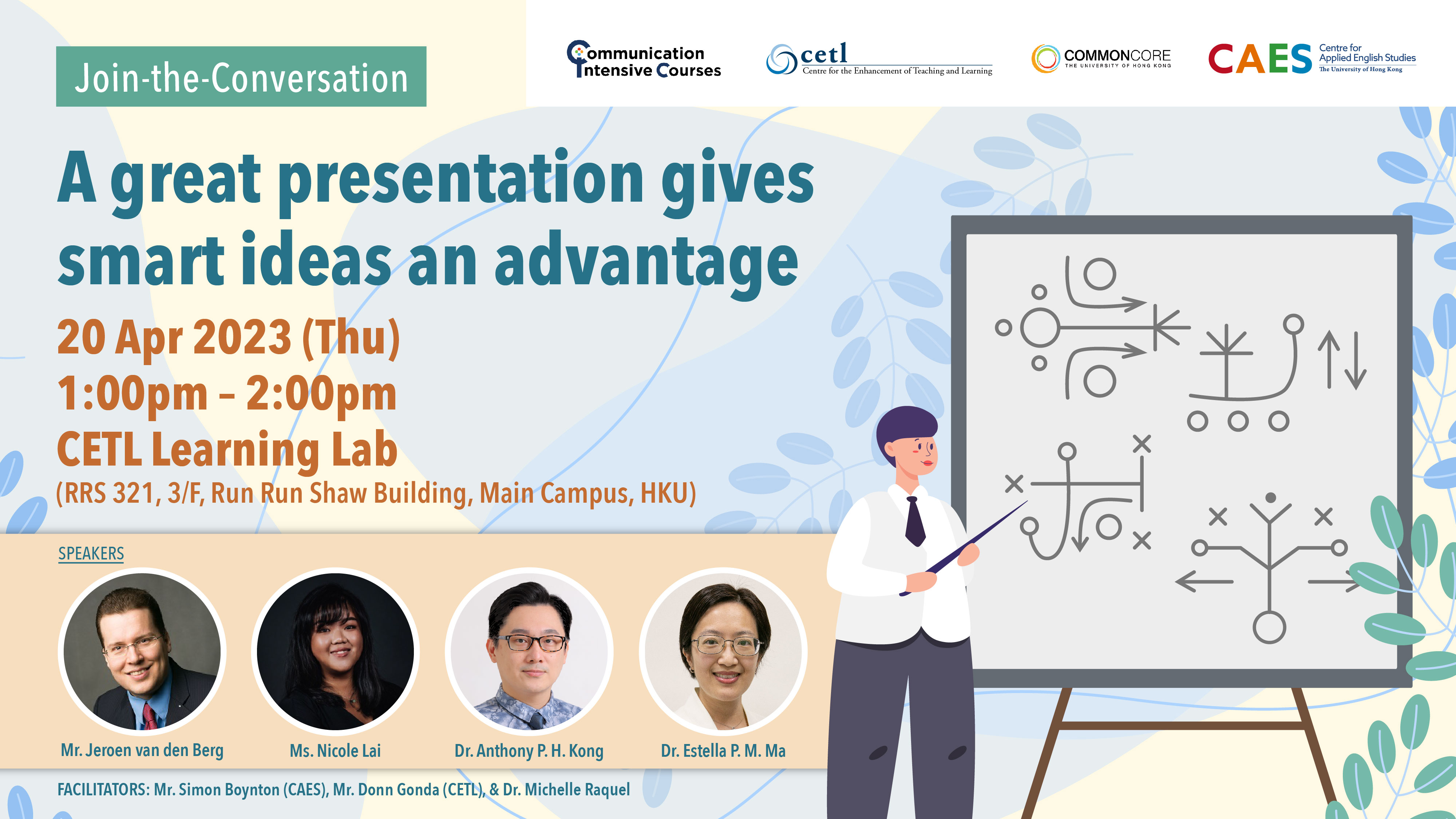 Organised by Centre for the Enhancement of Teaching and Learning, Centre for Applied English Studies, and the Common Core
Details of the Event:
Date : 20 April 2023 (Thursday)
Time : 1:00pm – 2:00pm
Venue : CETL Learning Lab (RRS 321, 3/F, Run Run Shaw Building, Main Campus, HKU)
Speakers : Mr. Jeroen van den BERG, Ms. Nicole Lai, Dr. Anthony P. H. Kong, Dr. Estella P. M. Ma
Facilitators : Mr. Simon Boynton (CAES), Mr. Donn Gonda (CETL), and Dr. Michelle Raquel (CAES)

Abstract
"A great presentation gives smart ideas an advantage" – Nancy Duarte
Many undergraduate courses have an oral presentation, and students need to gradually develop and improve their oral presentation skills over the course of their undergraduate career. One way to achieve this goal is to have engaging, relevant oral presentation assessments in courses and provide students with speaking support and teaching and learning activities that align with these assessments. In this speaking-focused join-the-conversation event, the speakers will share their experiences of teaching presentation skills in one of their undergraduate CI-badged courses.
Applications for Communication-intensive Courses badging are welcome all year around. If your course has embedded any two of the following communication literacies: written, oral, visual, and digital, please contact us at cics@hku.hk or visit https://cics.hku.hk/

About the Speakers
Mr. Jeroen van den Berg is one of Asia's foremost experts in business case development. He has worked in case development for over 18 years. Six years at HKUST Business School and 12+ years at The Asia Case Research Centre of HKU Business School where he currently serves at the assistant director, managing the Centre's day-to-day affairs. He also lectures part-time for the business school's Department of Management and Strategy. Prior to his career in academia, he worked for 10 years in various roles ranging from medical publishing to wealth management. Jeroen teaches the CiC badged course MGMT2787 Business Case Analysis and Presentation, where students work in rotating groups to prepare and present multiple cases to senior executives. Jeroen also organizes the world's largest case competition for undergraduates, the HSBC/HKU Business Case competition. Furthermore, he mentors teams for case competitions, and has judged numerous competitions at the undergraduate and MBA level. Jeroen has written numerous cases in strategy, finance and law. He led the development of over 500 business case studies from inception to publication. For the development of case studies, he has collaborated closely with Asia's business community as well as over 100 academics across the globe. He regularly teaches case writing workshops and has authored a book with Fudan University press titled: "Dealing with case studies: A practical guide to understanding, preparing, writing and presenting business case studies" Jeroen has a BSc and MSc degree in Business Economics from The University of Amsterdam and an LLM in Corporate and Financial Law from The University of Hong Kong.
Ms. Nicole Lai is the Assistant Lecturer (E-learning and development specialist) at the Faculty of Social Sciences. After gaining her BA in English Studies (2017) and by the time she completed her MA in Literary and Comparative Studies (2019), she had experience working at the University of Hong Kong and the Hong Kong University of Science and Technology in the fields of digital literacies, internationalization of Higher Education, intercultural studies, graduate teaching assistants training program, and professional development in teaching and learning. She is currently teaching BASC2001 and working on the Faculty Virtual Teaching and Learning project, Communication-intensive Courses initiative, experiential learning e-learning development, and course e-learning enhancement within the Faculty. Apart from revamping courses, developing e-modules, gamifying learning and teaching, creating videos, and designing graphics for print and websites, she is also passionate about writing poems. Some of her poems found their homes in Voice & Verse Poetry Magazine, HKBU EDGE, Agora, Tiny Seed Literary Journal, and Beyond Words Literary Magazine.
Dr. Anthony P. H. Kong is the Head of Academic Unit of Human Communication, Development, and Information Sciences (CDIS) and Director of Aphasia Research and Therapy (ART) Laboratory at The University of Hong Kong. His clinical and research expertise is in Chinese aphasia, discourse analysis, neurogenic communication disorders in multilingual speakers, and development of clinical language and cognitive assessment batteries. Trained as a speech language pathologist, Dr. Kong has extensive experiences in clinical education and supervision. Prior to joining HKU in September 2021, he was a professor in the School of Communication Sciences and Disorders at the University of Central Florida (UCF) and dually Credentialed Educator of "Personalized Adaptive Learning" and "Online Teaching" in the United States. In 2013, Dr. Kong was bestowed the UCF Service-Learning Faculty Recognition Award.
Dr. Estella P. M. Ma is the Director of the Voice Research Laboratory, Faculty of Education, The University of Hong Kong, and an Honorary Senior Fellow at the Department of Otolaryngology, Faculty of Medicine, Dentistry and Health Sciences, The University of Melbourne. Her primary research interest is clinical voice science and disorders. Apart from being an outstanding researcher, she is also a recipient of Faculty of Education Outstanding Teaching Award (Team Award).
For information, please contact:
Mr. William Yieu, CETL
Phone: 3917 8192; Email: wyieu@hku.hk