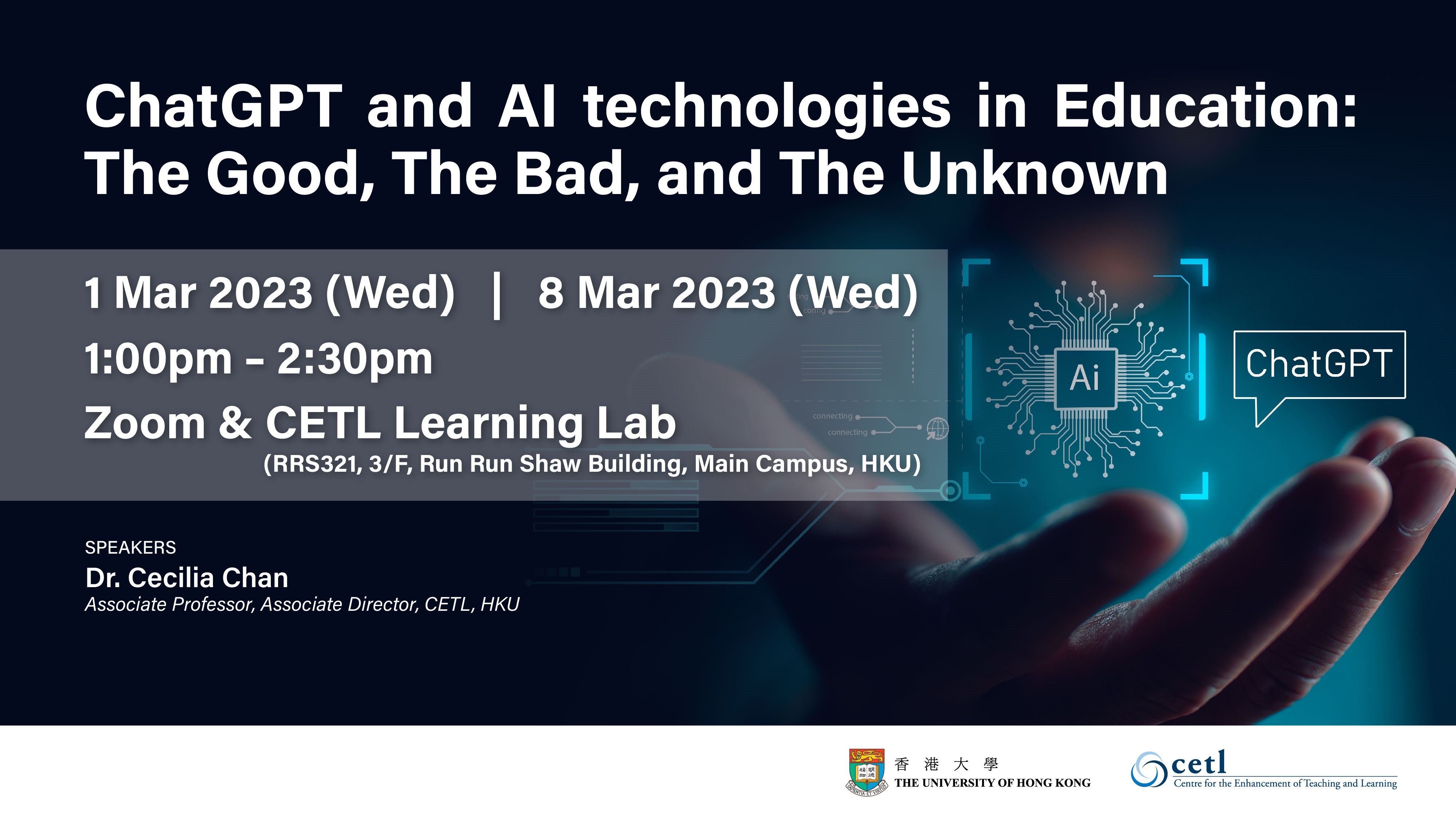 Organised by Centre for the Enhancement of Teaching and Learning (CETL)
[1 Mar 2023] Seminar 1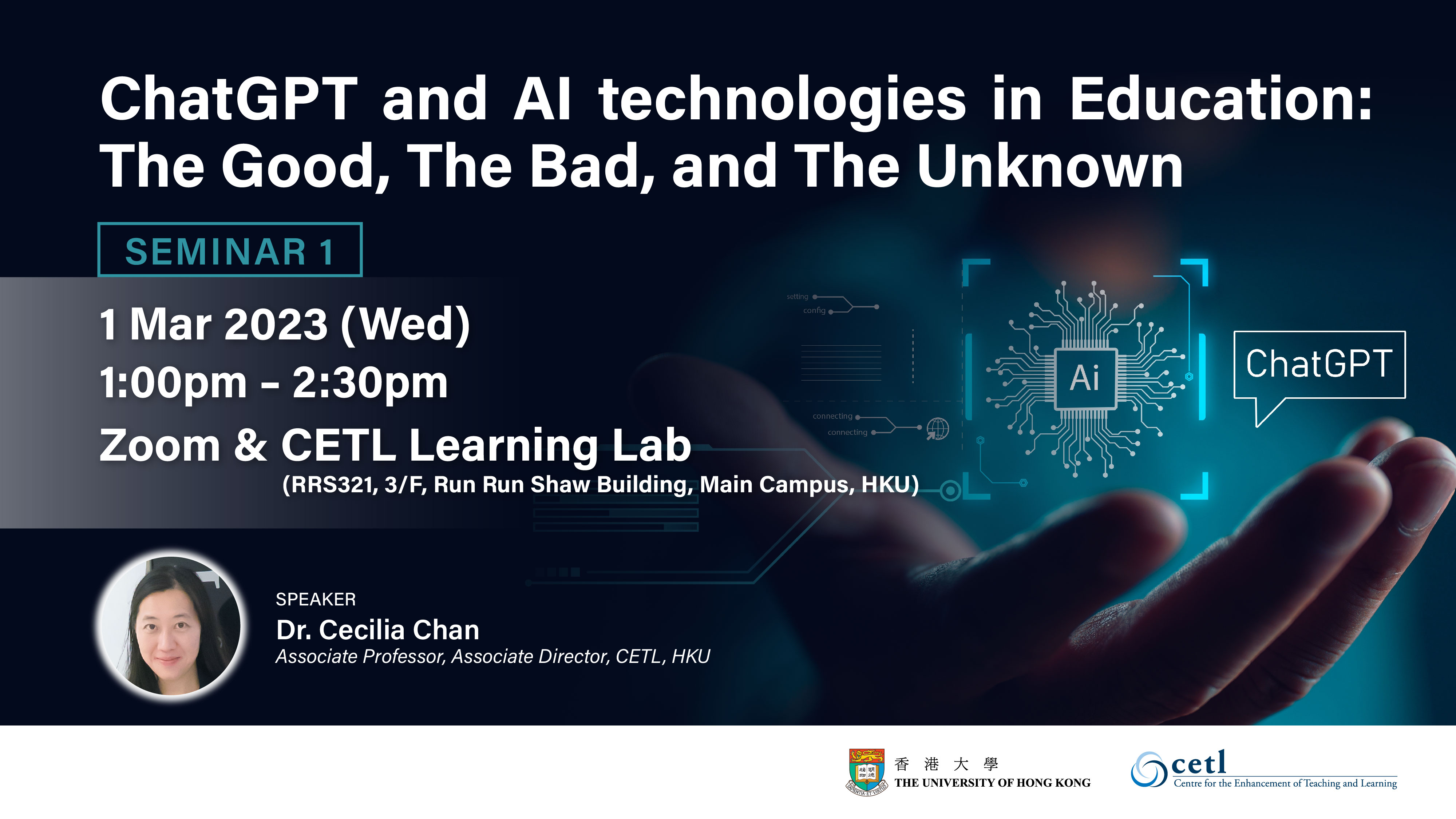 Date : 1 Mar 2023 (Wed)
Time : 1:00pm – 2:30pm (HKT)
Hybrid : Zoom & CETL Learning Lab (RRS 321, 3/F, Run Run Shaw Building, Main Campus, HKU)
Speaker : Dr. Cecilia Chan, Associate Professor, Associate Director, CETL, HKU
Abstract
This seminar aims to provide the platform to explore and discuss the use of ChatGPT and AI technologies in higher education. Through a SWOT analysis and examples, we will explore the strengths, weaknesses, opportunities, and threats associated with the integration of such tools into higher education. We will then delve into why ChatGPT is a game changer for higher education, what the tool is capable of and why it has suddenly gained attention in the news. The seminar will consider various aspects of ChatGPT in higher education, including its impact on teaching and learning, ethical considerations, assessment and feedback, technological limitations, and the future of artificial intelligence in education with examples.

[8 Mar 2023] Workshop 2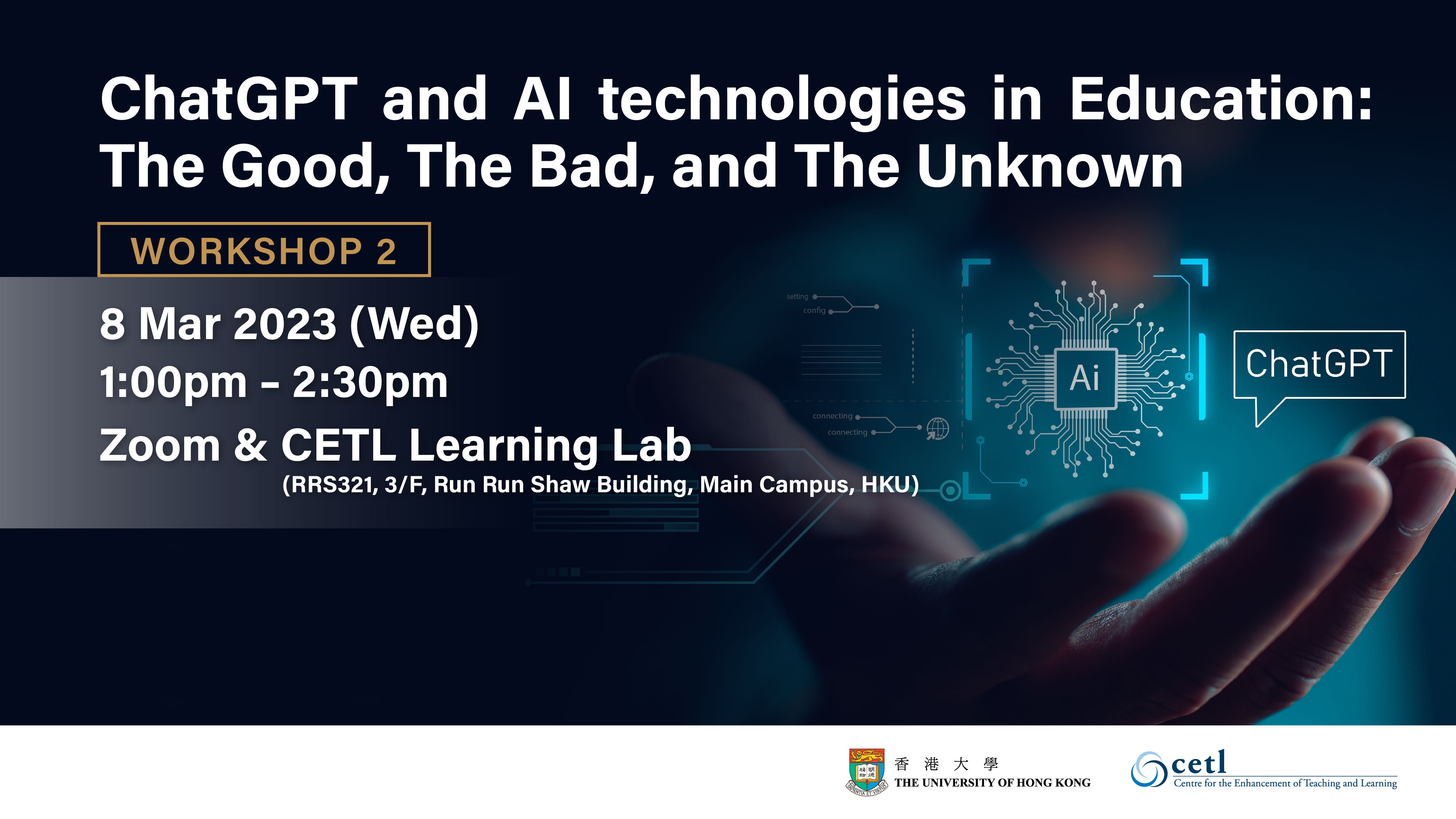 Date : 8 Mar 2023 (Wed)
Time : 1:00pm – 2:30pm (HKT)
Hybrid : Zoom & CETL Learning Lab (RRS 321, 3/F, Run Run Shaw Building, Main Campus, HKU)
Abstract
This workshop explores the possibilities of using Generative AI tools to support teaching and learning. The workshop will provide an overview of various Generative AI applications and their capabilities and then focus on how teachers can utilize them in various teaching and learning activities.
Participants can practice creating prompts, curating the AI-generated content, and using several techniques to verify the content's validity. In addition, this workshop will invite the participants to discuss on the possibilities of ChatGPT and other AI technologies in Higher Education.
For information, please contact:
Mr. William Yieu, CETL
Phone: 3917 8192; Email: wyieu@hku.hk